ABOUT THE SOCIETY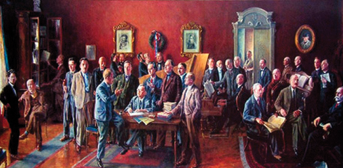 The Society of Slovene Composers (DSS) is a voluntary professional association of composers and musicologists. It was founded on 22 December 1945.
BRIEF HISTORY
Prior to the Society being founded, Slovene composers only sporadically joined forces in smaller, more or less organised groupings. The performance and publishing of their works were overseen by important cultural institutions and music magazines: Glasbena matica (1872-1945), Novi akordi ("New Chords", 1901-14), Pevec ("The Singer", 1921-38), Zbori ("Choirs", 1925-34) and Nova muzika ("New Music", 1928).

At the beginning of the 1930s, a small group of composers, among them Slavko Osterc, became members of the International Society of Contemporary Music (ISCM) and started working systematically on promoting Slovene composers and protecting their rights. The founding of the Society opened up significant new opportunities for Slovene composers: the Society started out by organising public performances, but in 1954 widened its field of activity by including a publishing section (Edicije DSS) and establishing contacts with other European publishing houses. Since 1966, the Society has, with a few interruptions, also issued its own publication, the DSS Bulletin.

Since 1991, the Society of Slovene Composers has functioned as an independent organisation and it currently has 125 members, including Slovene composers living abroad. Under its auspices, individual sections are responsible for various music genres: the Section for Church Music (1999), the Young Composers' Club (2000), the Section for Jazz and Popular Music (2001), the Section for Choral Music (2001), the Section for Music in Teaching (2002) and, last but not least, the Section for Electroacoustic Music (2002).

FORMER PRESIDENTS OF THE SOCIETY
Karol Pahor, Matija Bravničar, Vilko Ukmar, Danilo Švara, Uroš Krek, Dane Škerl, Bojan Adamič, Pavel Mihelčič, Janez Gregorc, Marko Mihevc, Jani Golob, Tomaž Habe, Nenad Firšt and Dušan Bavdek.

The activities of the Society are subsidised by the Ministry of Culture of the Republic of Slovenia and the Municipality of Ljubljana.